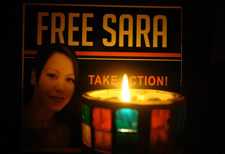 Raped, pimped out and jailed: The painful saga of Sara Kruzan
Sara Kruzan
was a victim of rape and sex trafficking. As in the Marissa Alexander wrongful conviction case in Florida, this article similarly has, "
No expert witness testified in Ms. Kruzan's defense during her trial.
" What is up with that one??!! Did these folks just decide that she was just a prostitute, a lesser teen and blew her off to just wash her away without finding out how the 16 year old even got to such a status in life?
As was the case with Marissa Alexander, the Prosecutor in Sara's case said she (Sara) was NOT a victim of domestic violence!
This must read article continues..."Jurors were not told about the prolonged sexual abuse she'd suffered, and the court's discretion to sentence her with parole as a minor was overlooked".
I am truly afraid to explore just how many such cases like this actually exist.
More to come!